---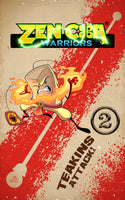 The storm over Full Leaf Island grows darker. Roaming packs of Insomniacs and the Overdrive plague continue to terrorize citizens as King Bitter Bean and the Paper Swan Sorceress amass their strength for their next strike. The ruling Dragon Cloud Dynasty, Zen Cha Masters, and warriors from neighboring dynasties, rally to defend the innocent, but old vendettas and a sinister plan may thwart their actions.
From his martial prowess to marrying the half-sister of the queen, Sun Dragon Warrior Zhi-Ming had long earned the ire and jealousy of General Z'bar. With King Bitter Bean's Red Eye Clan marching across the land, Z'bar must set aside his anger for the Island—or seize the chance to best his rival amid the chaos.
The stakes are high. Will the Para Bean Kingdom leagues of Coffee Mongers execute their maniacal plan, or will the highly skilled warriors of the Dragon Cloud Dynasty prevail against unfathomable hidden and present dangers against Full Leaf Island?