---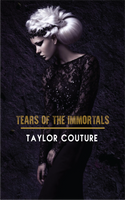 Autumn Örvar knows pain. After a pair of tragic incidents took her family from her, she's spent her young life running from her family's dark history. As the only living heir to a fortune, Autumn is torn between accepting what's rightly hers or denying her connection to their tainted legacy.
She's traveled the globe in search a sense of normalcy, only to find old wounds reopened. Deep depression and a longing for something outside of the world she's known drives her to Grosse Ile, Michigan, where no one knows her true identity, but her quirky hobbies quickly draw unwanted attention.
Ryan is the polar opposite of the brooding Autumn. She is distant and moody. He is the All-American jock with a heart of gold. It's no wonder she falls for him, but her affections draw the ire of mean-spirited coeds with a thirst for ensuring her continued unhappiness. When they learn who she really is and what she stands to inherit, they make it their mission to get their hands on her money and ruin any hope of her ever leading a normal life. Will they succeed in destroying Autumn or is the Gothic princess one step ahead of them?
Coming Soon
Pre-order the novel now.