---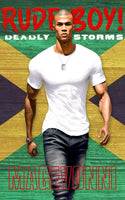 Former backup sniper, Dajuan O'Shamar, who'd worked for Shadow Bound, an US special ops contractor, stumbles into a career of taking out powerful but corrupt government officials. 
Dajuan puts together a shadow ops team of his own, SPOOKY, to make sure he's not double-crossed by the same people that gave him the greenlight to commit international crimes. 
His team is made up of ex-Marines, a former CIA operative, a former Russian military officer, and a gray hat hacker. They become the top-secret mercenary hit squad seeking out the most dangerous kingpins in the world. 
But on receiving their first target, a notorious drug lord from Colombia, things go horribly wrong resulting in the death of one of Dajuan's closest friends, an attack on his home by hired thugs, and the kidnapping of one of his family members. 
Dajuan must now hunt down those responsible for the attacks against his family before they can finally kill them. 
He enlists the help of a local Mexican cop, Victor Zapata, along with a few of his friends and his elite team, SPOOKY, to find answers and bring those responsible to justice. 
What ensues is Dajuan O'Shamar, aka The Black Rhino, fighting back against the system that has taken everything from him. Using every dirty trick imaginable, he is forced to kill more than just the bad guys and now tries to figure out if the so-called collateral damage was purely accidental or put there deliberately? 
The plot thickness as the body count racks up into double digits.
PRE-ORDER NOW