---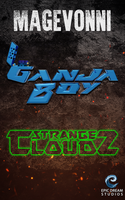 To say Stinging Needles Bay of Cannabis is an extraordinarily bizarre place would be an understatement unworthy of its intrinsic value to Full Leaf Island. 
By having the richest and most magical soil that enhances supernatural beings' abilities, the landlocked city has become a hotspot for unwanted visitors from every corner of the galaxy. 
However, an ancient evil has returned from the grave to exterminate a new generation of inhabitants from cursed lands. This return thrusts three unlikely heroes - Ganja Boy, Supreme Pharaoh, and G-Rebel - into the fray, prompting them to rise to the occasion and stop several interlocking apocalyptic prophecies from coming to fruition. 
As the universe expands and the balance of power shifts, lifeforms form neighboring islands, continents, and orbiting planets, prepare themselves for an ominous universe-ending threat.
PRE-ORDER NOW